FRANK CHO Batman Superman Dark Knight commission page 1
I rarely do art commissions. For the simple reason that I have too many projects to do and don't have free time to devote to commissions. However, I do take a commission or two, usually for a friend or art collectors that I know and trust – In this case, Hawaiian Dave.
Now Hawaiian Dave is a huge Batman-Superman fan, and to my knowledge, has one of the largest collection of Batman-Superman art.
Over the years, I got to know Hawaiian Dave fairly well and his art collection. And over the years, he tried to commission me to do a nice Batman-Superman piece to add to his collection. However, over the years, I resisted his offer – for the plain reason of I hate Superman. I think Superman is a boring and moronically simple character. From his Kryptonite weakness to his silly disguise with the eyeglasses, Superman is an ill-conceived character. Just because he's the first superhero doesn't mean he's a good character. And don't get me started on him crying on every other comic book cover.
One day the impossible happened, I was bored and I had some free time and Hawaiian Dave gave me a big wad of cash. On top of that, he told me that I can draw whatever I desire as long as Batman and Superman is in it… Since I hated Superman so much, the only logical conclusion was to do the scene in the Frank Miller's masterpiece "The Dark Knight Returns" where the old Batman comes out of retirement and beat the shit out of Superman. And off I went.
This simple pin-up morphed into an elaborate pin-up which then turned into a 2 page sequential action scene complete with dialogues. To tell you the truth, I had a great time drawing this. But I can honestly say that this will probably will be the last Superman art I draw.
I really hate Superman.
– –
Frank Cho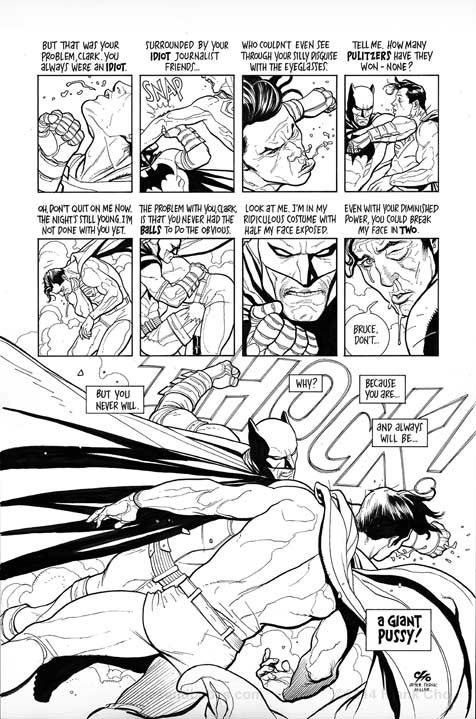 FRANK CHO Batman Superman Dark Knight commission page 2