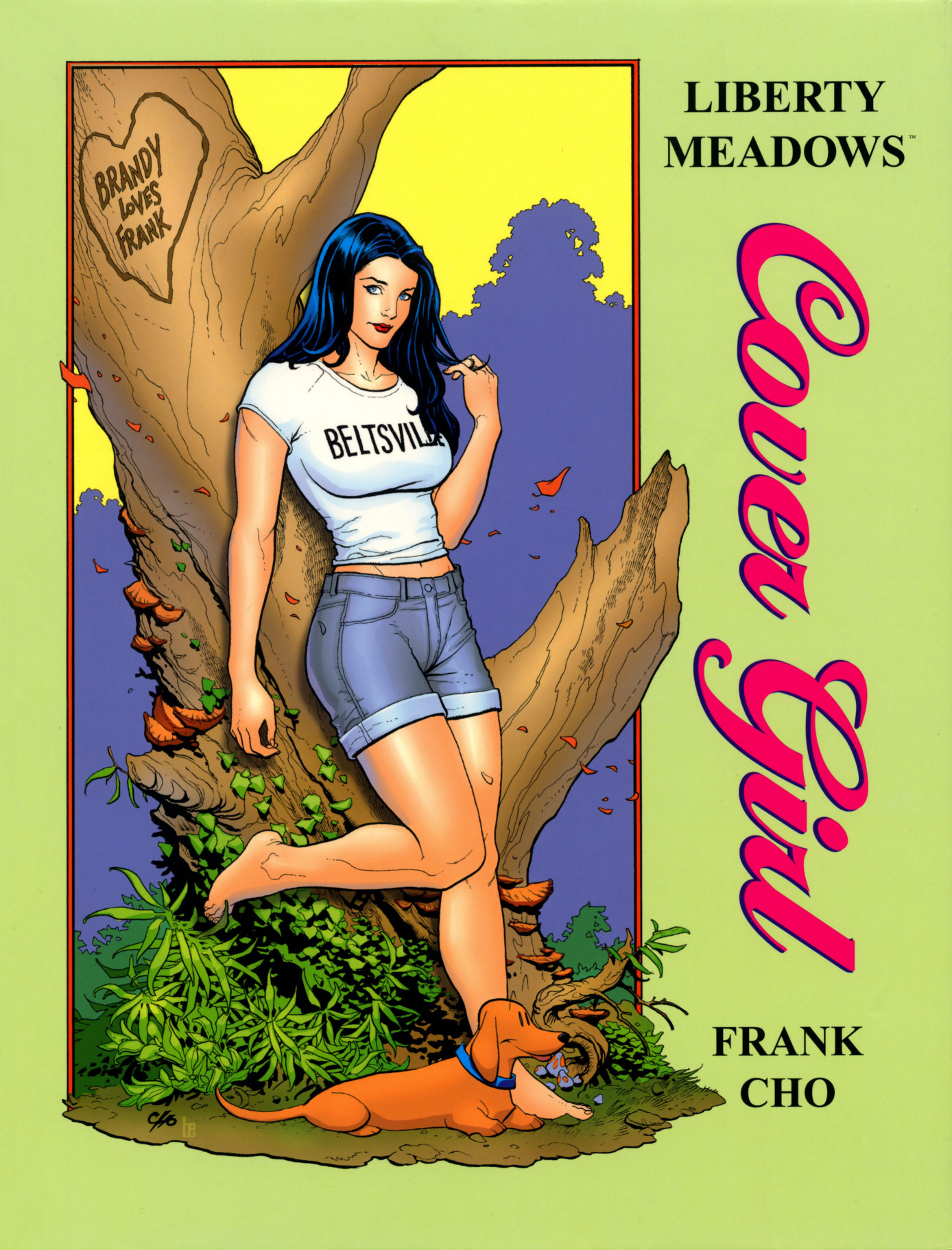 Liberty Meadows is a comic strip and comic book created, written and illustrated by Frank Cho. It relates the comedic activities of the staff and denizens of the titular animal sanctuary/rehabilitation clinic.
History
Liberty Meadows is the evolution of University² (University Squared), a strip Cho wrote during his college years for The Diamondback, the student newspaper at the University of Maryland, College Park.
Originally, it was syndicated and appeared in many newspapers, while also being collected in comic books produced by Insight Studios. At the end of 2001, Cho ceased syndication, partly because editors kept censoring it, and has since published it directly in comic book format.
Cho self published the comic book at first, with Image Comics taking over printing and distribution with issue #27. The comic book went on a hiatus in early 2004, after issue #36. June 2006 saw the publication of issue #37, and Cho's comment that he would be "trying to have couple of issues of Liberty Meadows out per year".
The humans
* Brandy Carter – A beautiful animal psychiatrist with big boobs.
* Frank Mellish – A nerdy veterinarian. Frank is in love with Brandy but afraid to tell her.
* Tony – An accident prone maintenance man.
* Julius – Owner of Liberty Meadows animal sanctuary and an avid fisherman.
* Jen – Brandy's roommate. A sexy rocket scientist who enjoys toying with men.
* Al – Owner of the local bar. An educated man who believes in numerous conspiracies.
* Roger – Brandy's ex-fiancé who's trying to win her back.
* Barbara Carter – Brandy's controlling, malevolent mother. Hates Frank. Schemes constantly to fix Brandy up with Roger.
* John Carter – Brandy's doting father. The complete opposite of Brandy's mother.
The animals
* Ralph – A midget circus bear with a perpetual squint and a penchant for inventing dangerous gadgets.
* Dean – A lecherous sexist pig with a drinking problem and an addiction to cigarettes. He's supposed to be in for detox but keeps breaking the 'no smoking' rule.
* Leslie – A dim-witted frog with hypochondria.
* Truman – A cute and naive young duck.
* Oscar – Truman's pet dachshund. The only animal in the strip who acts (more or less) like an animal.
* The Cow – A psychotic villain. Suffers from Mad Cow Disease.
* Khan – The Biggest Meanest Catfish in the Tri-State Area, and Julius' constant nemesis.
* Mike – A raccoon with Obsessive Compulsive Disorder.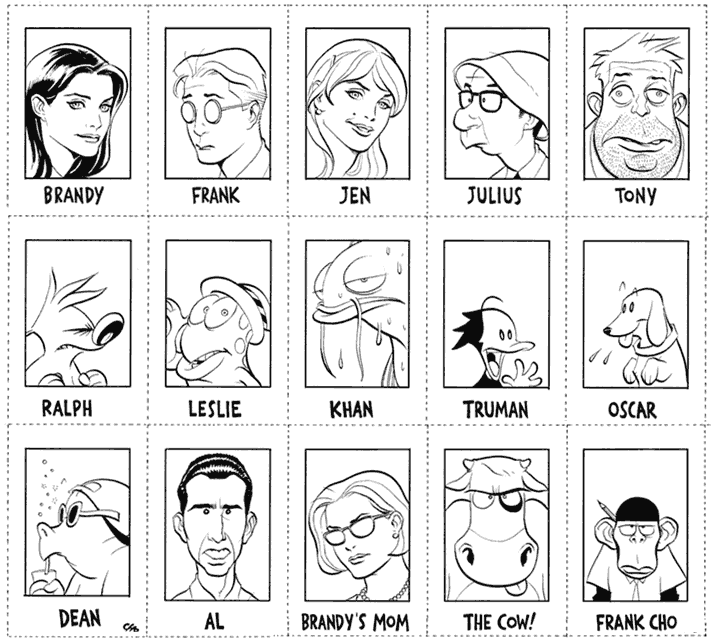 About Frank Cho, the author
The second of three children, Frank Cho was born in Seoul, Korea in 1971, but moved to the United States at the age of six and was raised in Beltsville, Maryland. After graduating from High Point High School in 1990, he attended Prince George's Community College and was offered a scholarship to attend the Maryland Institute College of Art in Baltimore, which he declined because he disliked the school's academic focus. Cho ended up transferring to the University of Maryland School of Nursing, which he says was his parents' idea. Cho ultimately graduated with a B.S. in Nursing in 1996.
Cho received no formal training as an artist. He got his start writing and drawing a cartoon strip called University2 for The Diamondback, the student newspaper at the University of Maryland, College Park. After graduation, Cho adapted elements of this work for use in a professionally syndicated strip, Liberty Meadows. Cho signed a fifteen-year contract with Creators Syndicate, which he later realized was unusually long and, perhaps jokingly, blamed on having a bad lawyer. After five years of doing Liberty Meadows, Cho grew weary of the arguments with his editor over the censorship of the strip, as well as the pressure of the daily deadlines, and pulled the strip from syndication in December 2001, though he continued to print it uncensored in book form.
During the course of his work on Liberty Meadows, he also did occasional cover work or anthology work for other publishers. These included Ultimate Spider-Man Super Special for Marvel Comics in 2000, The Savage Dragon #100 and The Amazing Spider-Man #46 in 2002, Hellboy: Weird Tales #6 in 2003 and Invincible #14 in 2004. he then began doing full interior work on other Spider-Man books for Marvel, including issues #5 and 8 of Marvel Knights Spider-Man in 2004 and 2005, respectively, and The Astonishing Spider-Man #123, also in 2005.
Marvel Comics' then-senior editor Axel Alonso, who had been impressed by Liberty Meadows, approached Cho about revamping the third-string character Shanna the She-Devil, a scantily clad jungle lady who first appeared in the early 1970s, as a college-educated defender of wildlife and opponent of firearms. Cho, seeing possibilities, recast Shanna in a seven-issue, 2005 miniseries as an Amazonian naif, the product of a Nazi experiment with the power to kill dinosaurs with her bare hands but an unpredictable lack of morality. The miniseries was originally meant to feature uncensored nude drawings of the heroine, but Marvel later decided against this, and had Cho censor his already completed pages for the first five issues. However, Cho has indicated on his website that Marvel plans to release a hardcover collection under its MAX imprint which will contain the uncensored artwork. The book became a sleeper hit for Marvel, and to Cho's subsequent projects for the publisher.Cho then penciled issues 14 and 15 of Marvel's New Avengers in 2006, and illustrated the first six issues of Marvel Comics' 2007 relaunch of Mighty Avengers with writer Brian Bendis. He is the plotter and cover artist of Dynamite Entertainment's Jungle Girl. Cho drew issues 7-9 of Hulk, which were published in 2009. In 2010 – 2011, Cho illustrated writer Jeph Loeb's run on New Ultimates for Marvel Comics. In 2011 he worked on the miniseries X-Men: Schism with writer Jason Aaron.In 2013, as an expansion of the Marvel NOW! initiative, Marvel premiered Savage Wolverine, a series written and illustrated by Cho that stars both Wolverine and co-stars Shanna the She-Devil and Amadeus Cho. The "Lost World"-type story that comprises the first five issues is intended to evoke a "classic adventure feel", and is inspired by the Indiana Jones films and the pulp horror of H.P. Lovecraft's Cthulhu myths.
Frank Cho has won many awards, including: The Emmy Award, The Daily Record Influential Marylander Award for Communication, the National Cartoonists Society's Awards for Best Comic Book and Book Illustration, the Eagle Award, the Charles M. Schulz Award for Excellence in Cartooning, the Scripps-Howard Award for Best College Cartoonist, the College Media Association for Cartooning Award, and the Max & Moritz Prize, for Best International Comic Strip. He was also nominated for the coveted Harvey and Eisner Awards.