Frank Cho's Secret Marvel Project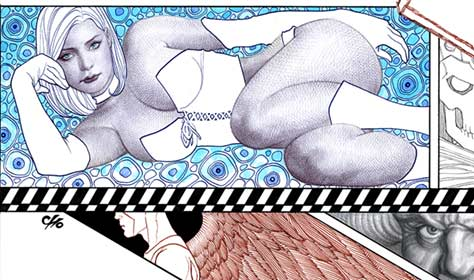 – FRANK CHO – upcoming cover art detail
First of all, I want to thank everyone for giving my Savage Wolverine a try. I hope that you guys enjoyed it as much as I enjoyed writing and drawing it.
Now, people have asked me what's coming up after my Savage Wolverine run. Well, gang, Marvel will announce it soon. In fact, I've just received the full script this week and just started drawing it. It's a doozy.
Here's the partial image of the cover of the wrap around cover.
Let the speculation begin.
*****
I'll be at Heroes Convention at Charlotte, North Carolina, this weekend.
I'll be sitting in AA-1503, near Neal Adams and Brandon Peterson.
I have no idea what I'll bring to sell since I'm sold out of everything. As for whether or not I'll be doing sketches at the show is up in the air.
– –
Frank Cho